Categories:
Louis Vuitton
The Louis Vuitton Malletage Twist Bag is not a new bag but the new 'Monogram Flower Malletage' print is. It's time to turn your heads and pay close attention to this new Louis Vuitton Flower Malletage Twist Bag as it is the true embodiment of flower power.
For this latest version of the Twist, you can see that it has been transformed into an evening style staple. Made with intricate and delicate embroidery subtly reproducing the Monogram flowers, this bag further adds a touch of femininity on the emblematic Malletage pattern set on a glossy and black patent leather. Because of this style, it results in a lightly padded feel for an even more sensual and appeasing touch.
If you are a true bagaholic, you'll instantly notice that the thick padded quilting reminds you a little bit of the cannage stitching from Dior. The only difference is that this Louis Vuitton bag has flower and round patterns, like a luxuriously well-decorated quilting.
It features a sliding chain strap with leather shoulder pad for an added sense of ease and comfort for shoulder carrying. With a perfectly black backdrop, the silver color metallic pieces on the other hand made the design stand out. It also features a tone-on-tone edge dyeing.
For compartments, it has an inside pocket and a back zipped pocket to keep your things organized. It measures 11.8" x 9.4" x 4.3" (L x H x W) inches and is priced $4400 USD, €2900 euro, £2700 GBP, €2900 euro, $31500 HKD, $4950 CAD, $5150 AUD, ¥494640 JPY via Louis Vuitton boutiques.
Tags: Louis Vuitton bag Monogram Malletage Flower Twist
comnum(0) tbcount(0) tbcount(158)
Categories:
Other Brands
A bag with a signature look is always a 'yes'. Meet the brand-new Saint Laurent Sunset Monogram Bag, it's created to be yours forever.
The iconic YSL logo sits proudly in the center of the flap. It's notable, classic and very attractive. That logo alone is packed with the brand's long history.
The Saint Laurent Sunset Monogram Bag is a beautiful shoulder bag. It comes with a luggage tag as well as a shoulder strap that can be detached anytime you want.
There is a front pocket under the flap and when you open it, you can find two large compartments to store all your essentials. It also features card slots for your credit card and bankcards.
Made in Italy and crafted from a durable leather – calfskin. This bag doesn't need much maintenance. You can choose different colors and leather types, but we do love the all-black version, which means the bag is black as well as the hardware.
Make the Saint Laurent Sunset Monogram Bag your everyday bag, we think it can help your transport all your important essentials. And by the way, the design is truly timeless and can be worn in any occasions, including formal meetings and work.
Measuring 6.5' x 8.5' x 3' (H x W x D) inches, priced at $2150 USD, €1690 euro, $16900 HKD, ¥188000 JPY, $2515 AUD via MyTheresa.
Tags: bag Monogram Saint Laurent SUNSET
comnum(0) tbcount(0) tbcount(172)
Categories:
Other Brands
Taking its inspiration from the original classic Saint Laurent Monogram Bag comes a newer tailored version of it in Dylan Monogram Saint Laurent Satchel Leather. Yes, we are definitely talking about this beauty right here, something that your eyes shouldn't dare to miss.
As if the gold-like YSL logo on the front won't consume your heart with a desire to buy it pronto, here we are giving you more reasons to love it even more. So this is a Saint Laurent flap front bag with accordion sides giving you enough space to carry your essentials. It also has a leather strap that can be worn over the shoulder or cross body, whichever style suits you best. The metal interlocking YSL signature is a definite winner for us! I also have magnetic snap closure, vintage-gold tone hardware, and suede lining for a more classic and elegant look.
The interior features a slot pocket with large compartment to store all your daily essentials. Crafted from calfskin, measuring 24 x 15.5 x 4.5 cm and priced at $1450 USD or €1390 euro via Saint Laurent boutiques.
Tags: bag Monogram Saint Laurent DYLAN
comnum(0) tbcount(0) tbcount(161)
Categories:
Other Brands
This Pre-Fall 2016, Saint Laurent has released a new version of the Monogram Cabas Bag. The new design now comes with an expandable gusseted side panels that was not present in the original version and has the same dimensions. It still features the interlocking YSL signature buckle closure. This season's version no longer have the buckles on the tubular handles. The interior is unlined and includes a slot pocket. It has a double zip top and a thick removable shoulder strap. Price is a few dollars higher compared on the original style, the new price is $2,490.00 (USD) for the Small Cabas, while old design is priced at $2,450.00 (USD).
Check out the comparisons between the new and original designs.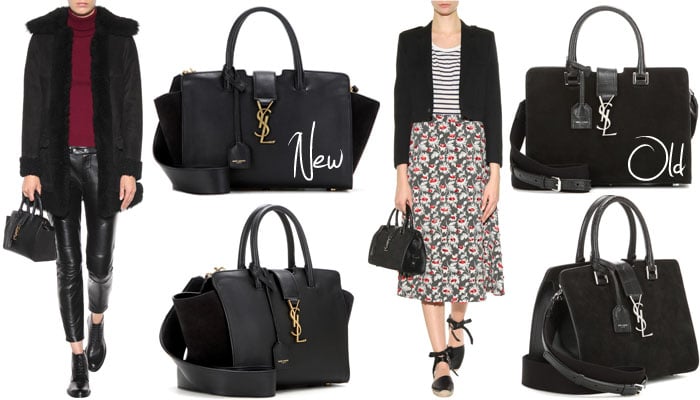 Style, Price & Size
| Style | Price | Size |
| --- | --- | --- |
| Saint Laurent Leather/Suede Small Monogram Cabas Bag | $2,490.00 (USD) | 17.2" x 8.6" x 5.8" |
| Saint Laurent Suede Small Monogram Cabas Bag | $2,490.00 (USD) | |
| Saint Laurent Leather/Crocodile Embossed Small Monogram Cabas Bag | $2,490.00 (USD) | |
| Saint Laurent Leather/Zebra Printed Cowhide Small Monogram Cabas Bag | $2,490.00 (USD) | |
| Saint Laurent Leather/Suede Baby Monogram Cabas Bag | $2,150.00 (USD) | 14.0" x 7.6" 4.7" |
Gallery
Tags: bag Monogram Saint Laurent Cabas
comnum(0) tbcount(0) tbcount(175)
Categories:
Louis Vuitton
Presenting the Louis Vuitton Monogram Eclipse Collection. The newest variation of the iconic Monogram Canvas features grey and black colors which has been inspired by the black leather of the Malle Courrier from the Louis Vuitton archives. The collection was presented during the Men's Fall/Winter 2016 runway show. It includes handbags, shoes, travel items and small leather goods. The Monogram Eclipse is made of mat smooth leather with dark grey shiny metallic pieces.
The Monogram Eclipse Collection will be available in selected Louis Vuitton boutiques and online starting on July 15, 2016.
Gallery
Tags: Louis Vuitton Monogram ECLIPSE
comnum(0) tbcount(0) tbcount(176)
Categories:
Louis Vuitton
Louis Vuitton has recently launched its new menswear collection inspired by sailing and marine world. The new collection, an America's cup themed is created in honor of the 35th edition of the Louis Vuitton America' Cup. Since 1983, the America's Cup and Louis Vuitton have been working closely. In celebration of the Louis Vuitton America's Cup World Series, the luxury brand has unveiled a new menswear collection that remains in tune with the casual elegance of the yachting event.
Louis Vuitton latest menswear collection features a range of casual wear, from cargo shorts, comfortable knits, polo shorts and outerwear in the signature of shades of white, blue and red. The America' Themed collection also includes numerous accessories like sporty Regatta sneaker, Josh Regatta backpack, Bandouliere 45 Regatta Keepall, etc. More items added to the collection as the final year of the race 2017 draws close.
The famous luxury brand celebrates lifestyle and leisure with its new collection. And leading the race is the iconic Steamer Bag Regatta which also happens to be the most expensive piece in the menswear collection. The Monogram Macassar Regatta Steamer Bag pays respect to the legacy of the luxury brand and history of Louis Vuitton.
The Steamer Bag Regatta is a travel bag for men, originally created in 1901 and relaunched by the fashion house to celebrate its partnership with the America's cup. The bag has a distinctive shape that takes after the sailor's original laundry bag. It is also designed to match the steamer trunks that the luxury brand had been producing since its launch 162 years ago (1854).
The 21st reincarnation of Louis Vuitton iconic Monogram Macassar Regatta bag is now available for $6, 050. This handsome bag represents the old world charm that no one can resist. The new version still carries the distinctive tri-coloured monogram that Gaston, Louis's grandson designed for Louis Vuitton love of travelling.
The travel bag offers ample storage space. This bag has a measurement of about 52 cm height, 44.9 cm wide and 20 cm depth. It has a protective underside feet, textile lining, monogram coated exterior, leather strap, and padlock to ensure proper closing.
Tags: Louis Vuitton bag Monogram Steamer Macassar
Categories

New Posts

Hot Posts